Testimonials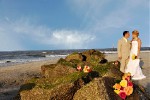 Nicky & Joe
Let me start by saying we would highly recommended Abbys Photography without reservation. We have worked with them multiple times, including their exceptional services for both our engagement and wedding photos. In the months leading up to our wedding they were easily accessible, very receptive to our needs, and provided extremely valuable feedback/ suggestions based on their wealth of experience. Because of their professionalism leading up to the wedding we had one less thing to worry about come the big day- which is huge considering the excitement and chaos.
On the day of our wedding we could not have ask for anything more- they were punctual, set-up very efficiently, and were always there to get the perfect shot without being overly burdensome and in the way. During the ceremony they were positioned in the appropriate places so they did not block our guest from viewing the ceremony. With all that being said it was the after wedding experience where they did their best work. We have heard many couples complain about the time lapse from the wedding day to picture viewing. With Abbys Photography there was very little lag time and the results were spectacular! It is obviously impossible to relive the best day of our lives, however, with the moments they captured and the unbelievably perfect photo book they created it is hard not get choked up and emotional all over again each time we look at the pictures. We thank them for helping us with our perfect wedding and know they can do the same for others planning a wedding. Good luck!!!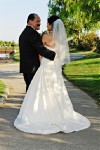 Connie & Tony
Abbys photography was great. Working with Ron and Cindy was very comfortable they both have great people skills and they make you feel very comfortable. They are very easy going and have great suggestions for posses and the layout of our album. We also had a great time during our engagement photo shoot. It was fun and creative.
We had a lot of pictures to pick from and it was very comforting to know we had that option. The fun booth was great idea, our friends and family really loved it. I would highly recommend Ron and Cindy for any new bride and groom. You will truly enjoy the experience of working with someone professional and fun at the same time. We truly are very with our photos and our overall experience with both Ron and Cindy.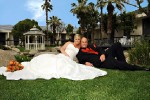 Kristen & Seth Sinclare
We can not thank you enough for the amazing job you both did at capturing our special day. We both felt so comfortable and had such an amazing time having you taking our pictures. You both are such great people and it felt like family taking our pictures. We look forward to working with you in the future. Thank you again for everything!!"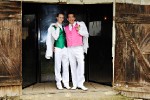 Aaron & Phil
This husband-wife team of photographers were exactly what we were looking for. They had us hook, line, and sinker when we saw the variety of packages offered with awesome prices.
Once we chose them as our photographers the rest of the planning went smooth. The quality of the pictures were perfect. We absolutely recommend Abbys photography.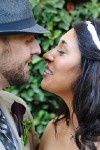 Faby & Brian Dees
Ron and Cindy helped make our wedding day a happy, memorable experience. Their wonderful photography from prior weddings sold us on using them at our 300+ person wedding / reception.
All of our questions and concerns were answered in a timely manner and they offered far more services than we needed, though it was nice to have the options. I'm really glad that Ron and Cindy's fun attitudes, great photographic skills, and aptitude with post processing translated across to a set of gorgeous wedding photos that my wife and I are grateful to have. Within 24 hours some of our nicest shots were posted on the Abbys Photography website and facebook which gave us the ability to share our pictures with family and friends immediately. Everyone's been impressed with the pictures and we highly recommend them to cover your function. Married October 16th, 2011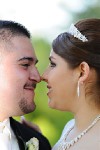 Veronica & Emmanuel Alfaro
Abbys Photography was one of the best decisions my husband and I made for our wedding. Ron and his wife are everything we could have imagined and more. They were punctual, courteous, creative, patient, and overall I wouldn't go to anyone else. The quality of work is outstanding and I would recommend Abby's Photography to everyone I know. The best part about Abby's Photography is definitely the fact that I was working with professionals who really cared about my husband and I. Ron cares about his workmanship and his people skills are amazing.
Anyone looking for a photographer should call Abby's Photography!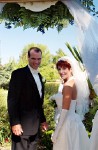 Gretchen & Josh
I have known Ron and Cindy for many years. When I became engaged it was a comforting feeling that such a good friend would be available for our special day to be our photographer. I completely trust Ron. He has a very good eye and knows how to capture those unexpected "special shots" When it came time for me to pick out my pictures for my album, I couldn't decide - so many were great! Ron was organzied and made the photo session easy to follow. I highly recommend Abbys Photography for any special, memorable occasion in your life that needs capturing.
Kari & David
The special attention that Ron and Cindy gave to us on our special day will be remember for a life time. The quality of service from customer service, pictures, special packages to the life time of memories they capture will remind us everyday what a wonderfull and amazing day we had.
My husband and I will use Abbys Photography for even our other special events from the birthdays, family pictures, family reunions, to pictures just because. I would recommend this wonderful team to anyone! Wedding March 25, 2005